In today's competitive food and beverage industry, accurate and compliant food labeling is crucial for businesses. Food label making software provides a convenient solution for creating nutrition facts labels for your company that also meet regulations set out by the Food and Drug Administration (FDA). There is a lot to consider when choosing a nutrition facts software to go for and deciding which solution works best for you and your company's long-term goals. 
The article will focus more on food labeling specifically, and compare three popular and authoritative brand options of companies that offer nutrition fact software alternatives and nutrition facts label production. These companies are Food Label Maker, ESHA Research, and ReciPal. By examining their features, costs, and target audiences, businesses can make informed decisions about the best fit for their label-making needs.
Summary
This article compares Food Label Maker, ESHA, and ReciPal, three popular brands offering food labeling software.
Key considerations for choosing a food labeling software include features, user-friendliness, regulatory compliance, cost, and professional support.
Each of the three software options has unique strengths: Food Label Maker offers customization, user-friendliness, and simplicity, while ESHA offers an extensive food database and formulation tools, and ReciPal offers diverse pricing options and adjacent products.
The best choice depends on individual business needs, with the decision requiring a careful evaluation of each software's offerings and value for money.
Software
Key Features
Cost
Best For
Food Label Maker

Customizable labels
Simplicity
User-friendliness and ease of use
FDA-compliant nutritional analysis
Recipe optimization
Prompt customer support
Expert consultation
Scalability

$49/month or $24.9/month (yearly)

Food technology companies
Food Startups
Individuals creating new recipes
Meal planning and catering companies
Restaurants, cafes
Bakeries
Food manufacturers and processors

ESHA

Ingredient database
Nutritional analysis
FDA Compliance
Recipe formulation
Allergen identification
Label customization
Reporting and analysis
User support

Based on a quoting system


Food manufacturing companies
Supplement manufacturing companies
Food service companies
Universities
Students
Health and wellness

ReciPal

Comprehensive nutrition analysis
Recipe costing
Allergen identification
FDA-compliant labels

Varies (from $19/recipe to $750/sample for lab-based analysis)


Food businesses
Nutritionists
Schools
Co-packing companies
Restaurants
What to Consider When Making a Food Label
Creating your own food label can be a difficult decision and process for businesses in the food industry. There are several key factors to consider to ensure accuracy and compliance. You will need to consider and evaluate elements of the software, such as:
Features and capabilities: It should offer a comprehensive and updated database of food ingredients and their nutritional content.
User-friendliness: It must have an intuitive interface, providing and a sense of ease for beginners or less experienced clients handling nutrition facts software or label software.
Regulatory compliance: This is a highly important consideration when it comes to accurate food labeling and nutrient analysis as your product(s) need to meet the regulatory standards set by the FDA to market it and avoid penalization.
Cost: You need to be able to justify affordability with the software's features and its value for money.
Level of professional support: One of the most important things to consider about a software company is to ensure that it provides prompt assistance or guidance when needed. This feature validates and legitimizes the company as being trustworthy and make it a go-to choice for the client base.
By carefully considering these aspects, businesses can make an informed choice when selecting the right food label making software for their specific needs. If you want to learn more about how to choose the best nutrition analysis software for you or your company's needs, refer to our article on Nutrition Analysis Software: Why You Need It and How To Choose One.
Food Label Maker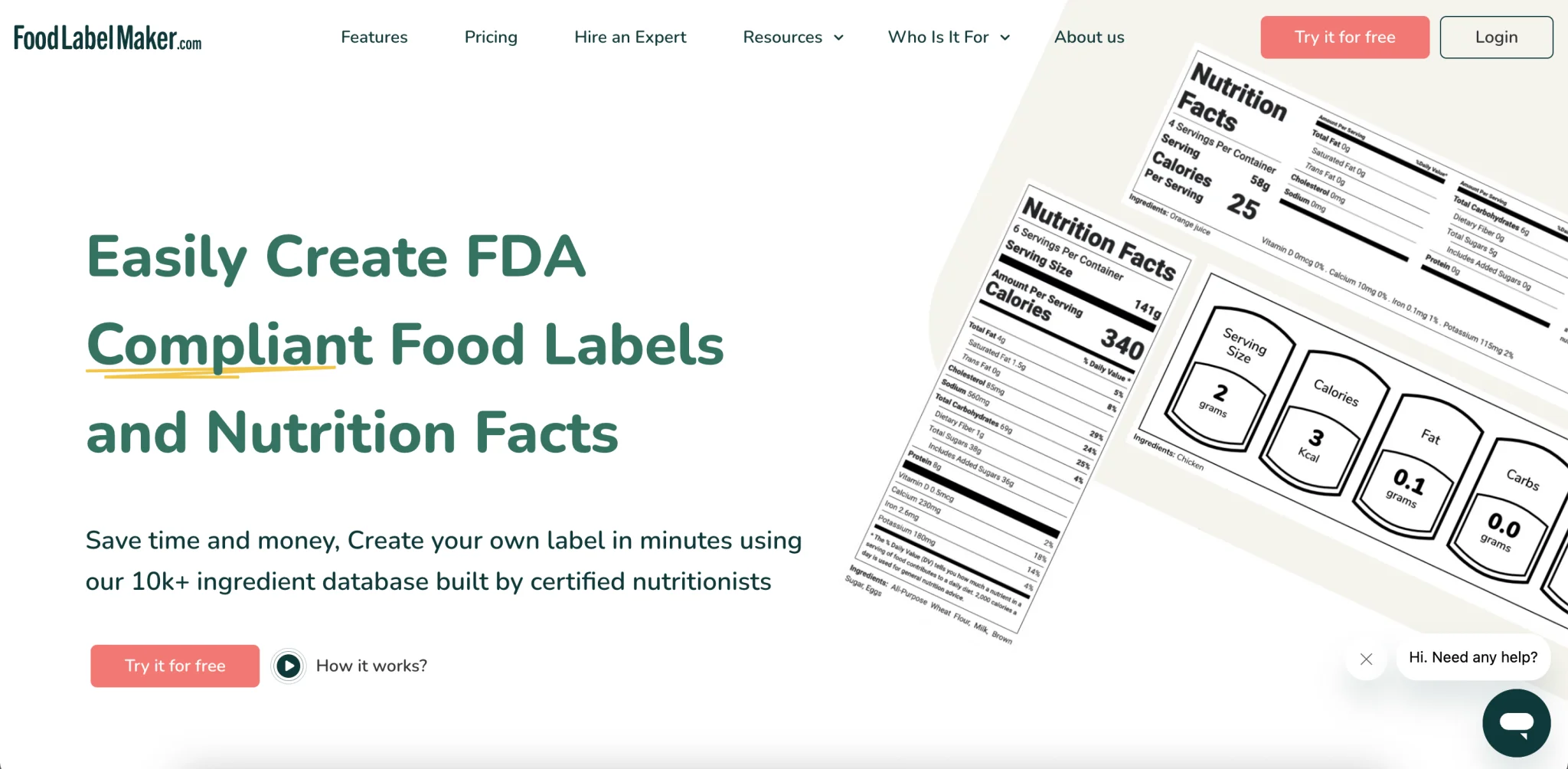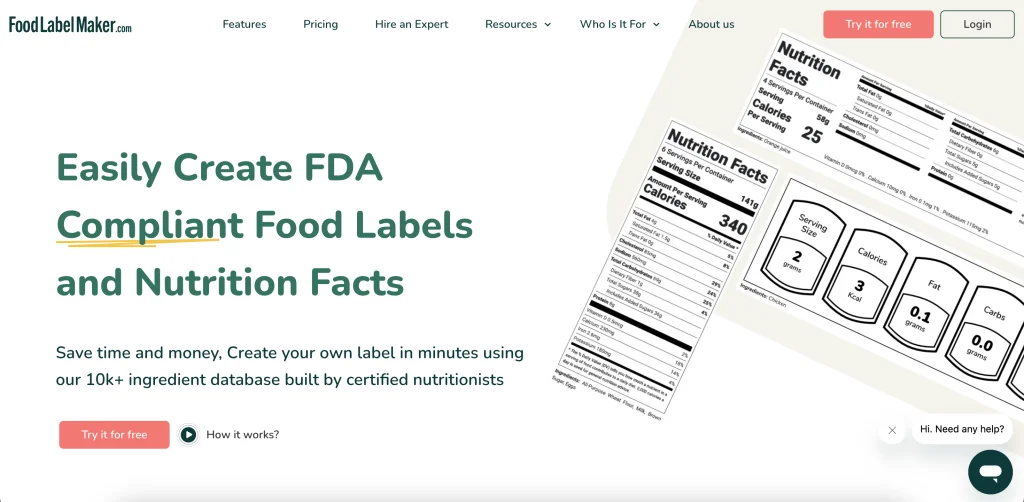 Food Label Maker is a B2B SaaS company that specializes in software for generating nutrition facts labels for their clients in the food and beverage industry. Their software allows users to effortlessly create nutrition facts labels that are accurate and compliant with regulations stipulated by the FDA. With a user-friendly interface and an extensive database of food items, Food Label Maker streamlines the process of nutrition analysis, recipe optimization, and label creation for clients.
Their customizable solution ensures that businesses can provide transparent and reliable nutritional information to their consumers that meets the food industry's regulations and thus promotes consumers' trust. It is recommended as one of the ESHA Genesis R&D® alternatives due to its transparent pricing options and ease of use. 
Features
Customizable Food Labels: You can create food labels according to your brand's style and needs.
Extensive Database: Their software boasts a vast database of over 10,000 food items, simplifying the process of finding and analyzing a wide range of products.
User-Friendly Interface: Their intuitive interface allows for quick and hassle-free label creation. Even users with little to no technical expertise can navigate this software with ease.
FDA-Compliant Nutritional Analysis: The software's nutritional analysis is based on established guidelines outlined by the FDA and other verified sources, ensuring reliable and trustworthy information for their customer base. They also add allergen declarations, ingredient statement lists, and full nutrition breakdowns on their labels.
Recipe Optimization: Food Label Maker helps businesses analyze recipes to identify potential allergens and nutritional content, enabling them to optimize their product formulations.
Prompt Customer Support: The company offers reliable customer support through channels such as email, phone, or live chat, ensuring users receive prompt assistance when needed.
Expert Consultation: Food Label Maker offers a highly sought-after feature where you send in recipes in any format you have available. Their nutrition experts review and generate food labels to suit your recipe. They will then send you, ready-to-use, regulatory-compliant nutrition facts labels in return.
Scalability: The software is scalable to accommodate businesses with varying recipe volumes, making it suitable for both small-scale and large-scale operations in the food industry.
Their newly released Enterprise Package is crafted for large-scale food businesses and offers:

Multi-Seat Subscription: Provides your full team with access under a single enterprise account.
Hassle-free Data Migration: They take care of migrating all your existing data into their tool.
Custom Built Features: This allows you to build features and customizations specifically for your needs.
Dedicated Support: You get a dedicated nutrition expert supporting your account 24/7.
Cost
Food Label Maker offers two major pricing options. You can choose between their:
Monthly plan
Yearly plan (which is more cost-effective)
Hire a Food Labeling Expert

1 to 3 Labels ($50/Label)
3 to 9 Labels ($45/Label)
10 or More Labels ($40/Label)

Expert Consultancy Services

Hire one of their Nutrition Experts who specialize in industries such as Meal Planning, Restaurant and Catering Services, and Food Manufacturing
They even offer a free demo version of their software so that you can get a sneak peek of what their services entail and how it might best serve your needs or that of your company.
Who is it best for?
Food Label Maker's software is most suitable for:
Any companies in the food and beverage industry
Individuals who create and post new recipes on a recurring basis and need nutritional analysis of their recipes
Meal Planning and Catering Companies
Restaurants, Cafes, and Bakeries
Food Manufacturers and Processors
ESHA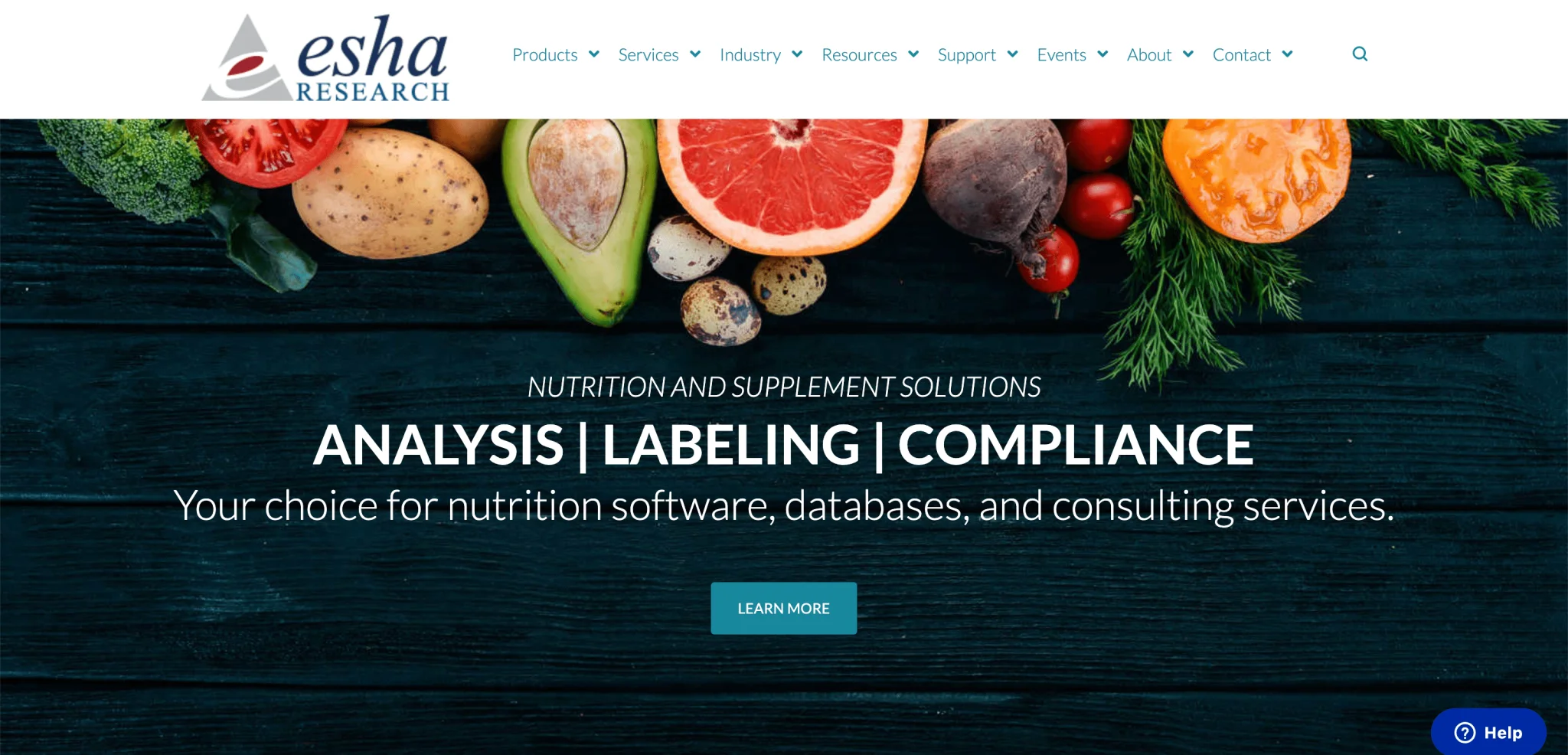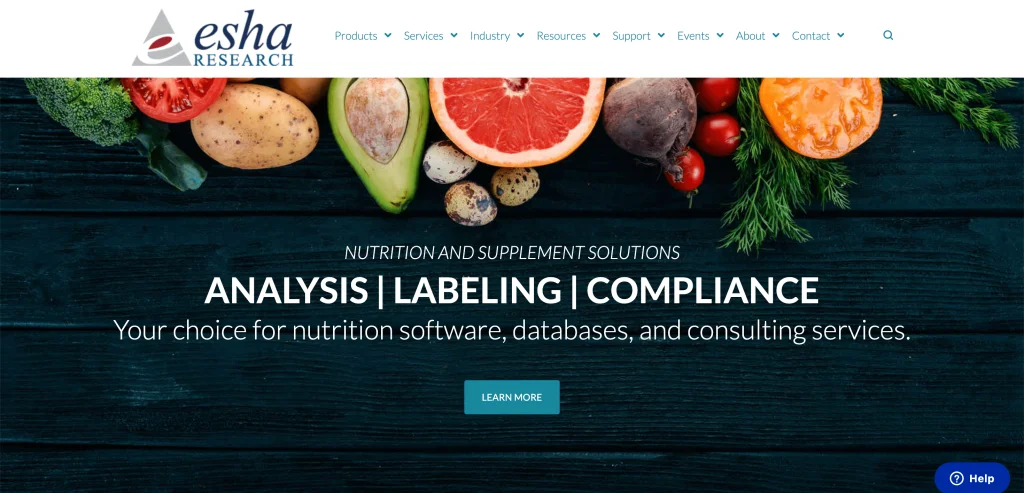 ESHA Research is a leading provider of nutrition analysis and food formulation software solutions. With years of experience in the industry, ESHA offers powerful and comprehensive software designed to assist businesses in the food and beverage industry with their food labeling and regulatory compliance needs. Their software provides access to an extensive database of ingredients, enabling users to quickly analyze and generate accurate nutrition facts labels. 
ESHA's platform also offers recipe analysis, dietary supplement analysis, and formulation tools. With a user-friendly interface and reliable support, ESHA aims to empower businesses to meet regulatory requirements and deliver high-quality products with precise nutritional information.
Features
Ingredient Database: The platform includes an extensive database of ingredients or API solutions, making it easy for users to access nutritional information for various food items.
Nutritional Analysis: ESHA's software provides comprehensive nutritional analysis so that accurate nutritional information is presented on food labels. 
FDA Compliance: The platform ensures compliance with FDA standards, helping businesses generate food labels that meet regulatory standards for marketing purposes.
Recipe Formulation: Their software offers recipe formulation tools, enabling businesses to create new recipes or modify existing ones while considering nutritional values.
Allergen Identification: ESHA's software helps identify potential allergens in recipes, assisting businesses in providing accurate allergen information on their food labels.
Label Customization: The platform allows for label customization, enabling businesses to design food labels that align with their brand identity and aesthetics.
Reporting and Analysis: The software offers reporting and analysis features, allowing businesses to track nutritional data, ingredient costs, and other relevant metrics.
User Support: ESHA provides customer support to assist users with any questions or issues they may encounter while using the software.
Scalability: The platform is scalable and caters to businesses of different sizes, from small startups to large enterprises in the food and beverage industry.
Cost
Pricing for their services is based on a quoting system, whereby you are then charged based on what label modules you need, and the number users that require the software. After getting information on the usage required, they provide you with a specific price quote. All you have to do is fill out a contact form on their Genesis R&D page to acquire the different pricing tiers for businesses of various capacities. This is a highly beneficial for companies as the pricing is tailored specifically to their requirements instead of being a flat fee.
Who is it best for?
The industries that ESHA is best suited for are:
Food Manufacturing Companies
Supplement Manufacturing Companies
Food Service Companies
Universities
Students
Health and Wellness
ReciPal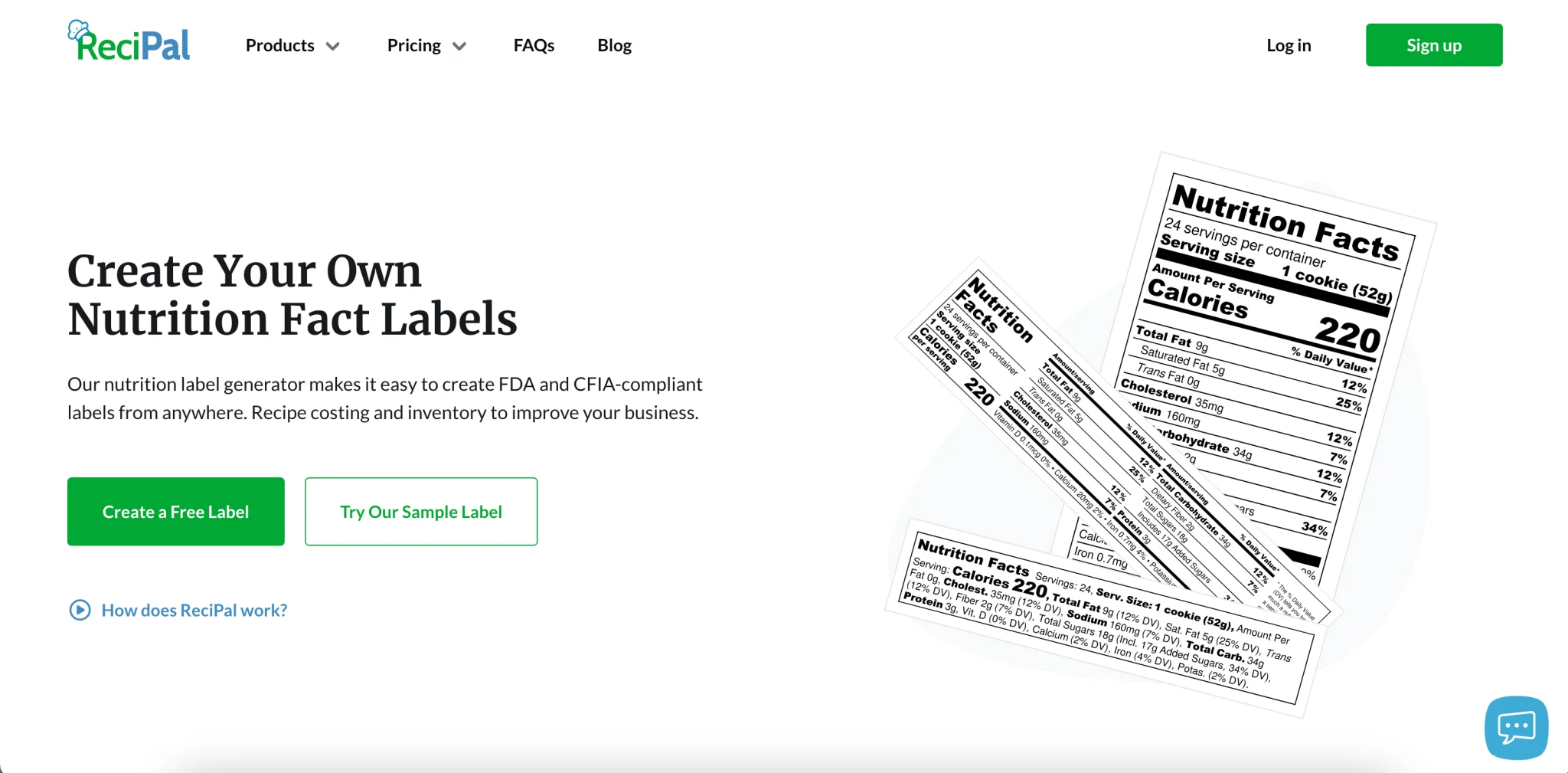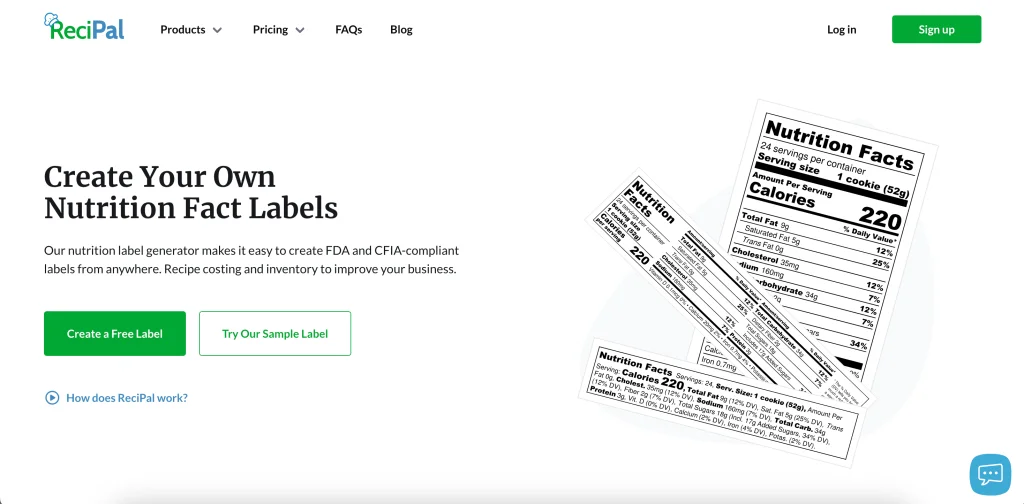 ReciPal providesnutrition analysis software tailored to businesses in the food and beverage industry. Their platform offers comprehensive solutions for creating FDA-compliant food labels and nutrition facts labels. With ReciPal, users can analyze recipes to determine its nutritional content, including macronutrients (carbohydtrates, proteins, and fats), vitamins, and minerals. The software streamlines the process, making it easy to generate accurate and informative labels for food products. They are, like Food Label Maker, also one of the cheaper ESHA Genesis R&D®  alternatives on the market.
ReciPal's services are suitable for various businesses, from small startups to large enterprises, enabling them to meet regulatory compliance and provide transparent nutritional information to their customers. The platform also allows users to access an extensive database of ingredients, ensuring precise and up-to-date data for label creation.
Features
Comprehensive Nutrition Analysis: ReciPal offers a robust nutrition analysis software that allows businesses to accurately analyze the nutritional content of recipes and food products.
Growing Database: The platform provides a continually updated database of ingredients and nutrition data to ensure accuracy and compliance with the latest research and regulatory requirements.
Recipe Costing: Their recipe costing features allow businesses to calculate the cost of ingredients and assess the profitability of their recipes.
Allergen Identification: The software helps identify potential allergens present in recipes, making it easier for businesses to provide accurate allergen information on their food labels.
FDA FDA-Compliant Labels: ReciPal enables users to generate FDA-compliant nutrition facts labels for their food products, ensuring they meet regulatory standards.
User-Friendly Interface: The platform's intuitive user interface streamlines the recipe analysis and label creation process, making it accessible to users with varying levels of technical expertise.
Customer Support: The company offers prompt and reliable customer support, assisting users with technical issues and providing guidance throughout their knowledge base.
Scalability: ReciPal caters small to large businesses, providing scalability to accommodate growing volumes of recipes and products.
Cost
ReciPal has an extensive pricing selection for its clients. They offer an array of options so that you can decide between whether you would like to do the product labeling yourself, whether you would like to hire one of their labeling experts, or simply use their services to manage your inventory.
Their pricing tiers include:
Do it Yourself Labelling

Single Serving plan: suitable for smaller companies and product testing
$19 / recipe
Business plan: suitable for medium-sized companies, dietitians, and food consultants
$49 / month
Business Plus plan: suitable for larger companies and commercial kitchens
$99 / month

Inventory Management

Start-Up Inventory
$50 / month
Pro Inventory
$100 / month

Hire a Labeling Expert

ReciPal Label Review: Expert review for your labels
$40 / label
Consulting Services: Bespoke consulting on an hourly basis
$150 / hour
Lab Based Analysis: Ideal for foods that are hard to analyze
$750 / sample
Who is it best for?
ReciPal can serve diverse areas related to food and beverage sector. These include:
Food Businesses
Nutritionists
Schools
Co-packing companies
Restaurants