Recipe Management Software:
Easy, Fast, Reliable
Effortlessly organize, manage, and optimize your recipes. Our software provides consistency and quality every time.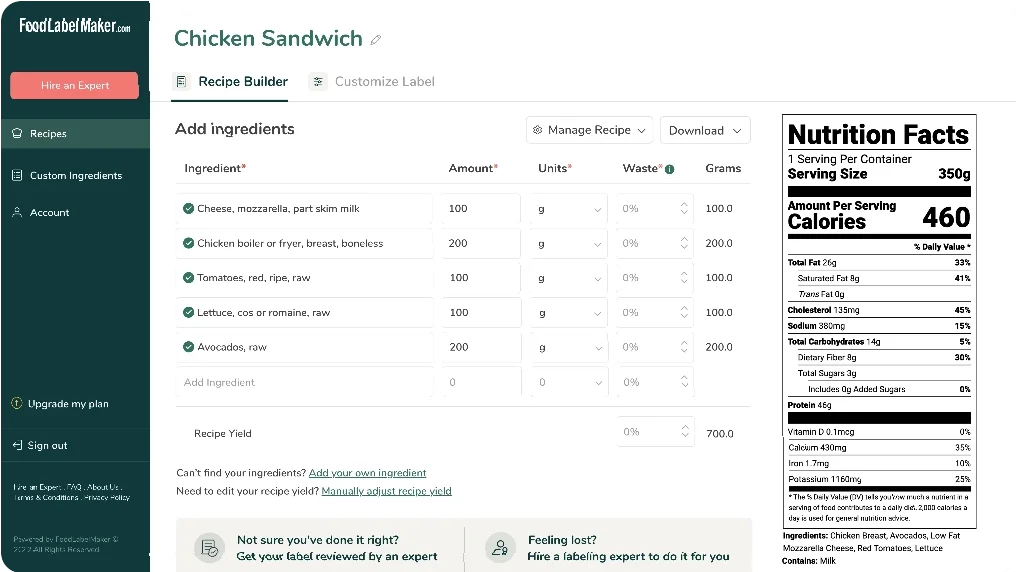 Whether you're a small business owner or an enterprise in the food and
business space, Food Label Maker offers:
Secure Recipe Storage
With our cloud-based system, your recipes are secure and accessible from any device, anytime. Say goodbye to lost notes and misplaced recipes.
Seamless Organization
Sort, manage and edit your recipes to perfection, with just a few clicks.
FDA-Compliant Nutrition Facts Labels
Equip your recipes with nutrition facts labels, ingredient statement lists and allergen declaration statements that adhere to FDA standards, enhancing customer safety and boosting transparency.
Our recipe management tool offers a centralized platform to store, organize, and edit recipes. Beyond enhancing culinary consistency, it saves time, boosts efficiency, and streamlines the workflow in professional settings.
What You Can Do With Our Software
Efficiently store, manage, and organize your culinary creations with Food Label Maker's cloud-based recipe management software solution.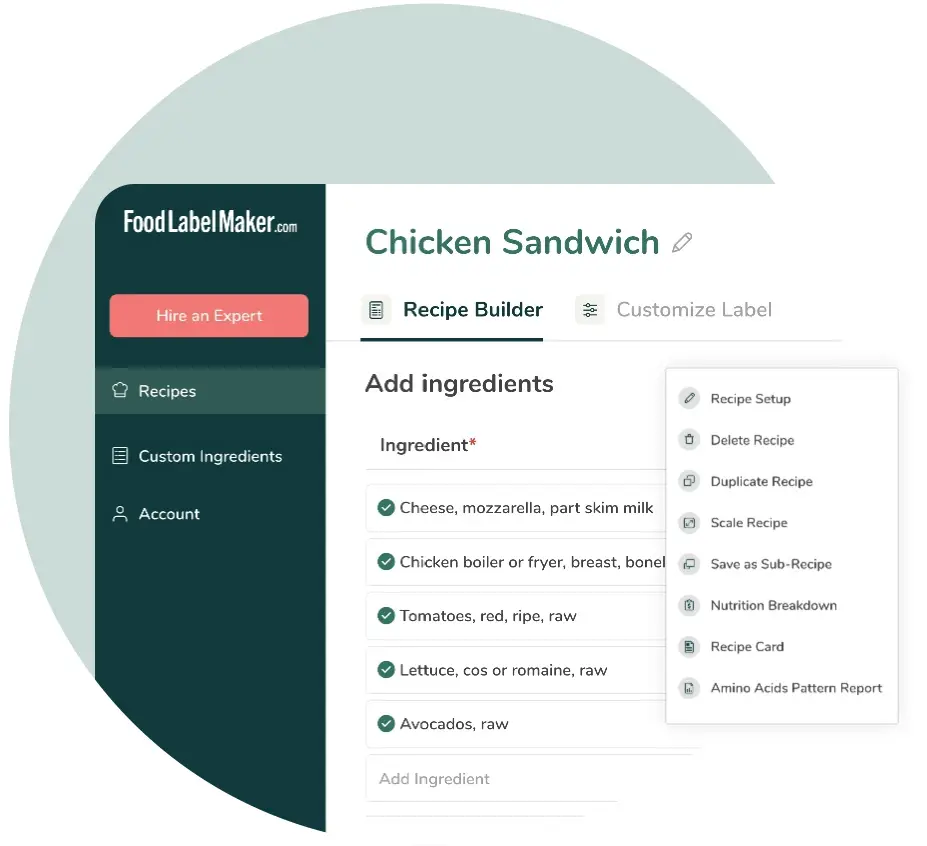 Build and Optimize Recipes
Our Sub-Recipe Builder allows you to craft recipes, and easily adjust portions and ingredients. Our Recipe Management Tool also lets you generate and edit comprehensive Recipe Cards.
Automatic Allergen Identification
Automatically identifies and labels allergens in your recipes in line with FDA guidelines.
FDA-Compliant Nutrition Facts
Get accurate, FDA-compliant nutrition facts for every recipe.
One-click Recipe Scaling
Our restaurant recipe management software scales your recipes for consistent taste and quality.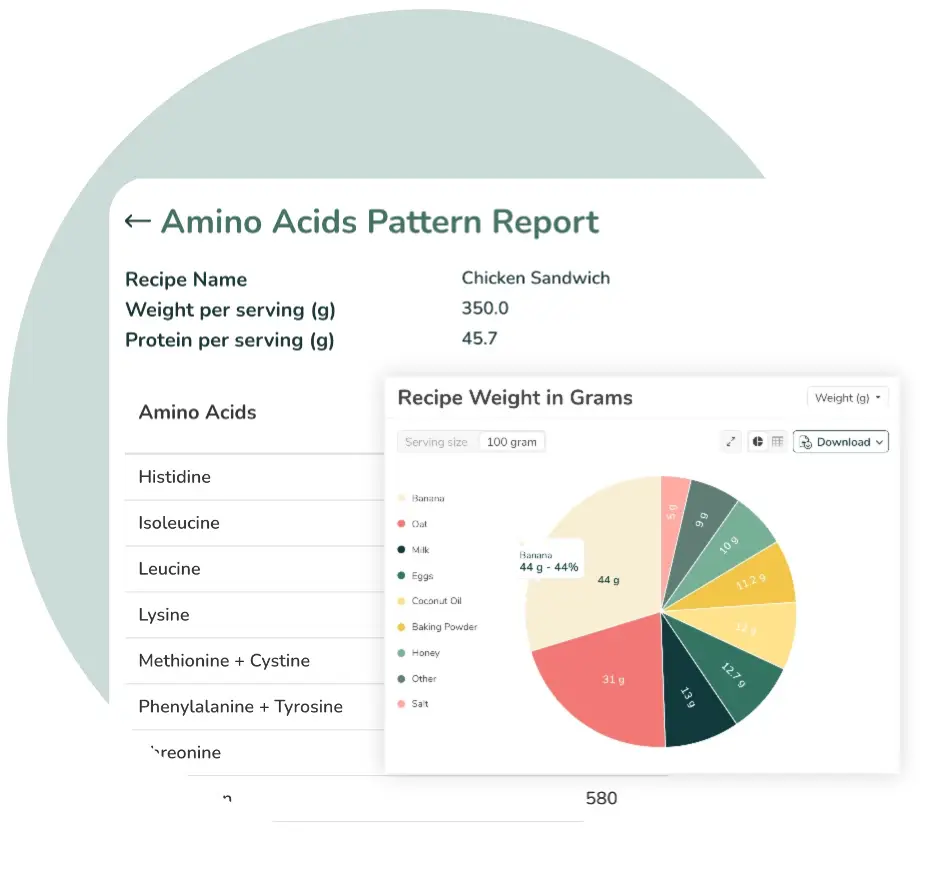 Ingredient Insights
Gain insights into the nutritional profile of every ingredient, analyze amino acid patterns and protein digestibility scores (PDCAAS), and leverage marketing claims to highlight your dishes.
Full Nutrition Breakdown
Find out which ingredients are driving each nutrient and make informed decisions on how to optimize your recipe's overall nutritional profile
Unlimited Storage & Downloads
Benefit from Unlimited Secure Cloud Storage for all your recipes and Unlimited Label Downloads whenever you need them.
Seamless Integration
Our platform integrates seamlessly with your existing systems and offers Custom API Integration, for a smooth workflow from recipe creation to serving.
Visit our Features Page or Pricing Page for a more detailed breakdown of our recipe management software and the costs associated with it.
How Does it Work?
Navigating the world of recipe management has never been this straightforward. Here's a step-by-step guide on how our recipe management software transforms your food products:
1. Log In & Dashboard Overview
Sign in to your personalized dashboard. Here, you'll see an overview of your recipes, recent edits, and quick access to key features.
2. Recipe Creation
When you create a new recipe, you can input ingredients, quantities, and detailed instructions. Our software will automatically calculate nutritional facts and allergens.
3. Ingredient Insights
For each ingredient, view its nutritional profile to ensure that you're always informed and can make adjustments as needed.
4. Recipe Editing
Easily tweak ingredients, adjust portions, or refine instructions. Changes are saved in real time and reflected across all integrated systems.
5. Allergen & Nutritional Labeling
Once your recipe is finalized, our software automatically generates FDA-compliant allergen and nutritional labels.
6. Cloud Storage
Your recipe is securely stored in the cloud. Access, edit, or share it anytime, from any device.
7. Integration & Sharing
Seamlessly integrate with other platforms or share your recipe with team members, ensuring consistency across all outlets.
Customer Stories
Artisan Bakery
The user-friendly interface of Food Label Maker makes it easy for our team to input and manage recipe data, as well as generate different label styles that we can display on our packaging based on our needs. We can now confidently provide our customers with detailed information about the ingredients, allergens, and nutritional content of each product.
Beverage Manufacturing
Food Label Maker has simplified the process of generating nutrition facts labels for us. It is easy to use, and their support team is always ready to assist.
Healthy Meal Plan Company
Food Label Maker has transformed the way we manage our recipes at our company. Now, we can easily create, edit, and organize our recipes, saving us countless hours of manual work. The nutrition facts label generator feature also allows us to provide our customers with detailed, accurate information about the meal plans we offer as well.
Snack Food Manufacturing
We've been using FoodLabelMaker.com for a while now, and we couldn't be happier with the tool! Their subscription plan is cost-effective and user-friendly making it incredibly easy for us to generate accurate and compliant nutrition facts labels for all our products. It's a time-saver that ensures we're always in compliance with industry regulations.
Vegetarian Eatery
Food Label Maker's user-friendly and intuitive interface made it very easy for our staff to quickly adopt it and it has now become an important part of our kitchen operations. It is not just a label maker; it is also a comprehensive recipe management tool that has allowed us to organize our recipes.