Make Ingredient Lists in Minutes
Easily generate compliant ingredient lists for your products with our ingredient label templates.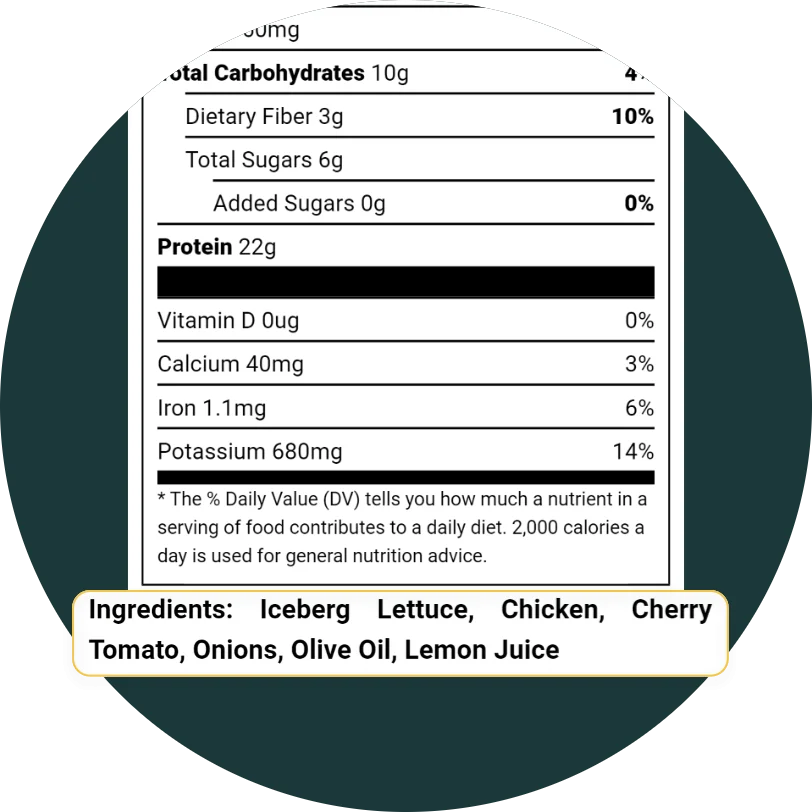 Why Our Ingredient List Maker?
Easy Regulatory Compliance
Stay ahead of the curve with a platform tailored to meet stringent regulatory standards. Our ingredient list maker is:
Aligned with FDA and CFIA guidelines
Powered by a robust 10,000+ ingredient database
Certified by expert nutritionists, ensuring accuracy and compliance
User Friendly
Our platform is designed with simplicity in mind. For a quick overview of how it works, watch our video here.
How Should Your Ingredient List Look?
Crafting an FDA-compliant ingredient list involves:
1

Listing Ingredients in Descending Order: Ingredients should be listed based on their weight, starting with the heaviest.

2

Using Common Names: Ingredients should be named using their common or usual names.

3

Highlighting Allergens: Clearly identify any potential allergens in the list.
With Food Label Maker, this process becomes a breeze. Your ingredient list is automatically generated based on your recipe and the latest regulations, ensuring your lists are not only compliant but also clear and consumer-friendly.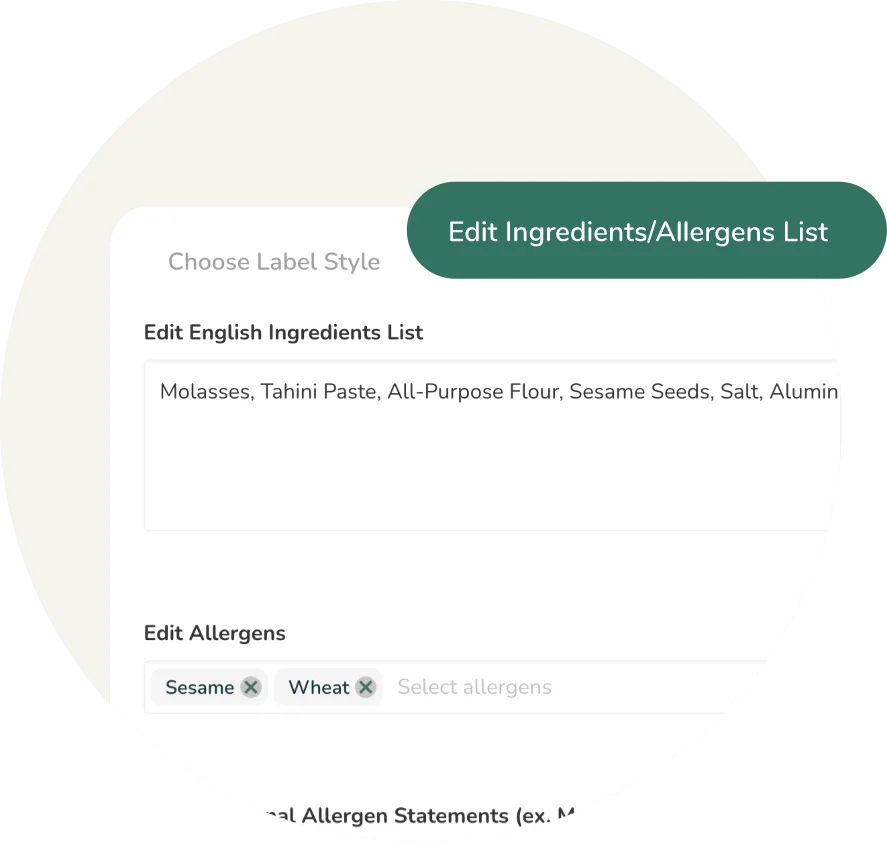 What Our Clients Say
Artisan Bakery
The user-friendly interface of Food Label Maker makes it easy for our team to input and manage recipe data, as well as generate different label styles that we can display on our packaging based on our needs. We can now confidently provide our customers with detailed information about the ingredients, allergens, and nutritional content of each product.
Beverage Manufacturing
Food Label Maker has simplified the process of generating nutrition facts labels for us. It is easy to use, and their support team is always ready to assist.
Healthy Meal Plan Company
Food Label Maker has transformed the way we manage our recipes at our company. Now, we can easily create, edit, and organize our recipes, saving us countless hours of manual work. The nutrition facts label generator feature also allows us to provide our customers with detailed, accurate information about the meal plans we offer as well.
Snack Food Manufacturing
We've been using FoodLabelMaker.com for a while now, and we couldn't be happier with the tool! Their subscription plan is cost-effective and user-friendly making it incredibly easy for us to generate accurate and compliant nutrition facts labels for all our products. It's a time-saver that ensures we're always in compliance with industry regulations.
Vegetarian Eatery
Food Label Maker's user-friendly and intuitive interface made it very easy for our staff to quickly adopt it and it has now become an important part of our kitchen operations. It is not just a label maker; it is also a comprehensive recipe management tool that has allowed us to organize our recipes.